Thurston Strong
Target Zone Small Business Startup Grant
[CLOSED TO NEW APPLICATIONS]
*Proposals were accepted March 1 through May 1, 2022. Award announcements will be issued on or about June 1, 2022. 
The Thurston County Target Zone Small Business Startup Grant program is a critical element within a broader Thurston Strong Economic Response, Recover and Reset Plan. The goal of the Startup Grant initiative is to address economic inequity by investing in the areas and people most vulnerable to the impacts of the COVID-19 pandemic.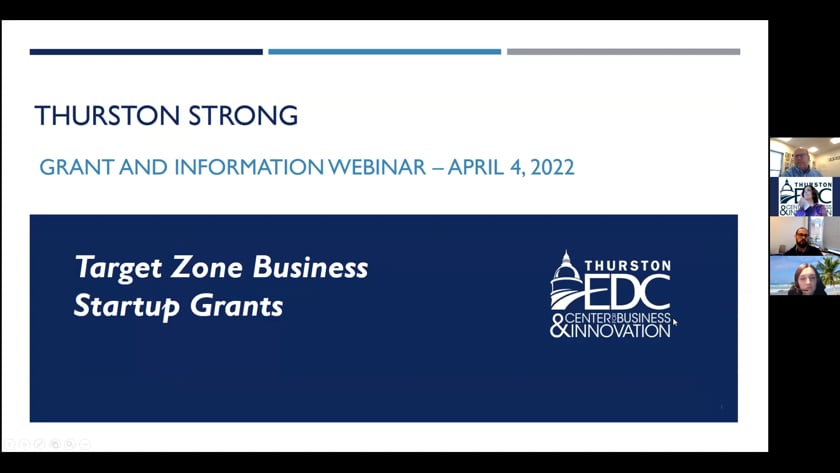 Video: Target Zone Small Business Startup Grant Webinar
A discussion about eligibility, scoring, and more information for applicants.
Two measures are used to determine eligibility, as described below:
ALTERNATIVE 1: TARGET ZONE RESIDENT
Target Zones* in Thurston County are characterized by one or more of the following characteristics:
A poverty rate above 20%
Above-average share of employment in industries threatened by economic disruption
Above-average share of housing cost-burdened households
Above average share of households without health insurance
Applicants in Alternative 1 must reside or locate their startup business within a designated Target Zone (see map below*).
*The map identifies neighborhoods most vulnerable to the economic impacts of COVID-19. The economic vulnerability index is composed of the following components: share of employment in industries most threatened by economic disruption, share of housing-cost burdened households, and share of households without health insurance.
Thurston County Target Zone Map
This screenshot shows Thurston County, WA target zones based on the Vulnerability Index described above. In Thurston County, high and moderate vulnerability zones are located along the Martin Way corridor from west Olympia to Lacey, and in south-central Lacey, Yelm, and the Nisqually Reservation. Smaller pockets exist inside Lacey, Olympia, Tumwater and unincorporated Thurston County.
If you are uncertain whether your residents or proposed enterprise is located within a Thurston County target zone, please contact our team at the Thurston Strong Business Hotline at 1-888-821-6652.
ALTERNATIVE 2: THURSTON COUNTY RESIDENT BELOW AREA MEDIAN INCOME (AMI)
A prospective applicant may also be eligible to apply for a Small Business Startup Grant if they are a Thurston County resident, whether or not the applicant lives in a designated target zone, if the applicant also has a verifiable annual income at 65% or below the Area Median Income (AMI) for Thurston County as of 2021. The table below shows AMI for Thurston County by household size.
65% AMI by household size (Thurston County)

1

2

3

4

5

6

7

8

$41,080

$46,930

$52,780

$58,630

$63,375

$68,055

$72,735

$77,415
Available Funding and Administration
The Target Zone Small Business Startup program will award up to five grants (not loans) ranging from $75,000 to $100,000. Smaller grant requests will be considered. Grant funds can be used to cover any/all legally allowable costs associated with transitioning a business from concept to market. Successful applicants will work with an advisor to determine appropriate fund allocation and will not be required to pay back grant funds following successful launch of their enterprise.
Funding for the program is provided by Thurston County through a portion of the County's federal America Rescue Act allocation. Resources for this program are provided separately from funding dedicated for the Thurston Strong Business and Nonprofit Grant programs.
The program will be administered by the Thurston Economic Development Council through the Center for Business and Innovation (CB&I). The CB&I houses a wide range of small business training and counseling services including the Small Business Development Center, Washington Center for Women in Business and Scale Up Training Program. It also maintains links to BIPOC business support organizations including CIELO and the Tacoma Minority Business Development Agency.
Successful grant recipients will be identified and selected through a transparent RFP process. A multicultural, multidisciplinary review team will evaluate and score proposals. All applicants will be notified of their status and final selections.
All interested and qualified aspiring entrepreneurs are eligible to apply including, but not limited to, individuals that have pitched ideas to the THINK Network, or who have completed businesses plans with the assistance from CB&I staff or local colleges and universities. Ultimately, successful applicants will:
Reside in a Thurston County Target Zone and/or reside in Thurston County with a verifiable annual income at 65% or below the Area Median Income (AMI)
Propose a NEW business, nonprofit and/or an accelerated expansion of newly created business that was opened for business as of March 2020 or later
Have a business plan and/or clear articulation of what community benefits your enterprise will add to the Thurston community
Present total startup costs required for the business to launch and confirm adequate additional funding has been obtained, if necessary, to cover costs that exceed the maximum grant award
Show the ability to be fully up and running by December 31, 2022.
Present a proof of concept "pitch" to the proposal review team
Provide additional materials or responses during review as necessary to evaluate the proposal
All business plans will be reviewed by business development specialists, with viability approval required to advance to the next stage of consideration. Applicants whose business plans are not fully formed may be offered an opportunity to participate in one of the Thurston Strong-sponsored business training programs.
Reporting and Fiduciary Responsibilities
Grant recipients will be assigned a CB&I staff liaison for advisory services through the duration of the grant period. The CB&I advisor will monitor and, where helpful, facilitate aspects of the business launch process per the terms of the business plan and grant agreement. The advisor will also collect specific outcome data for the purposes of grant reporting. This might include, but not be limited to:
Specific information about the type of business operations or services offered
Change in income or customers over the grant period
Number of full and part time workers retained
Other information deemed pertinent to the desired outcomes
This information will be collected individually and in aggregate to facilitate grant reporting and outcome measurement.